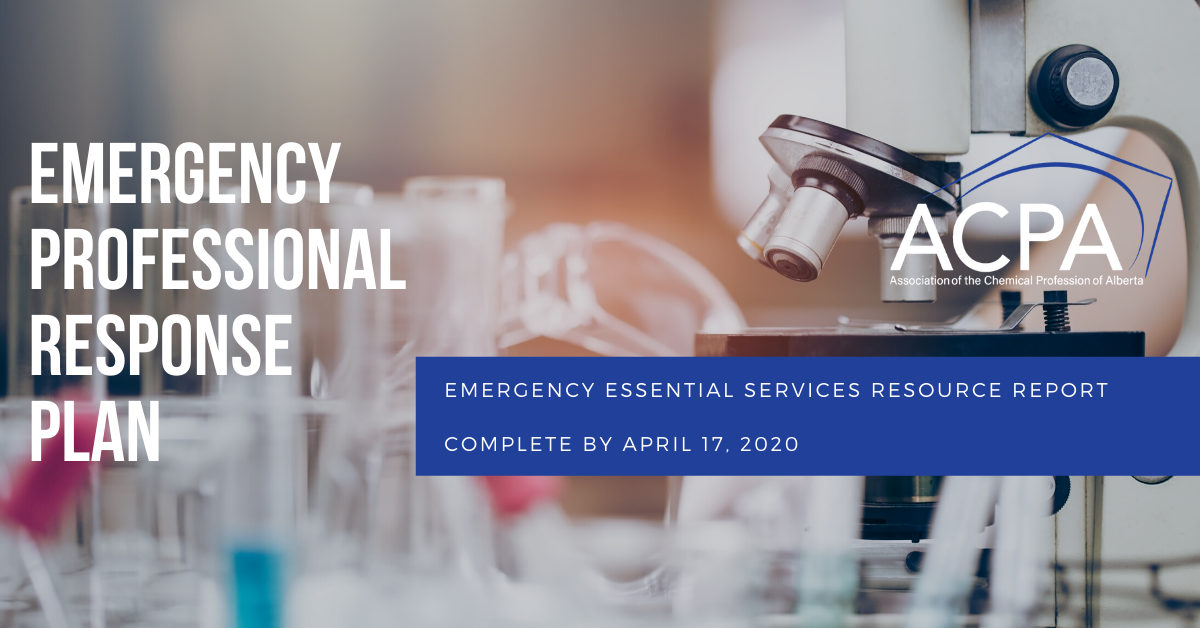 None of us would have imagined that our lives could change so much in such a short time. Now many of us are working from home, some are temporarily unemployed, others are trying to cover for those who are no longer at work, and trying to maintain social distance. Meanwhile, many have to cope with home schooling restless children, being ill, caring for someone who is ill, or fearing for those who may become ill. Not a world for the faint of heart.
The ACPA has been asked for help in this time of crisis. The Government of Alberta recently held a series of emergency meetings (virtually, of course) and have asked all professions to develop Professional Service Continuity Plans. We have been challenged: if many of the chemists in Alberta become ill, can we respond to an emergency situation and protect the people of Alberta. As part of our response, we have updated our ACPA database with an emergency essential services resource report.
Now we are asking you, our members, to help complete this request.
Before April 17, 2020, please follow the steps outlined:
Log into your ACPA account on the website.
Under the Member Menu at the bottom of the list, select Update My Info - ensure that your preferred email address, home phone number, cell number, employer company name, and work phone number are entered correctly (if you are currently unemployed you can put unemployed under employer name)
Under Emergencies and Essential Areas, select 'Yes, I am willing to be contacted in case of a municipal, provincial, or national emergency' if you are willing to respond, otherwise leave it blank
What region(s) do you work in? Select the region(s) of Alberta that you work in.
What essential area(s) do you work in? Select all that apply
Confirm your password
Update User
When you are done, log back into your account to make sure your answers have been correctly saved.
 
Thank you for taking the time to register the essential services you can help provide in an emergency.
 
We take pride in our profession and in you, our members.
 
Stay well.
 
Patrick Kalita
President, ACPA