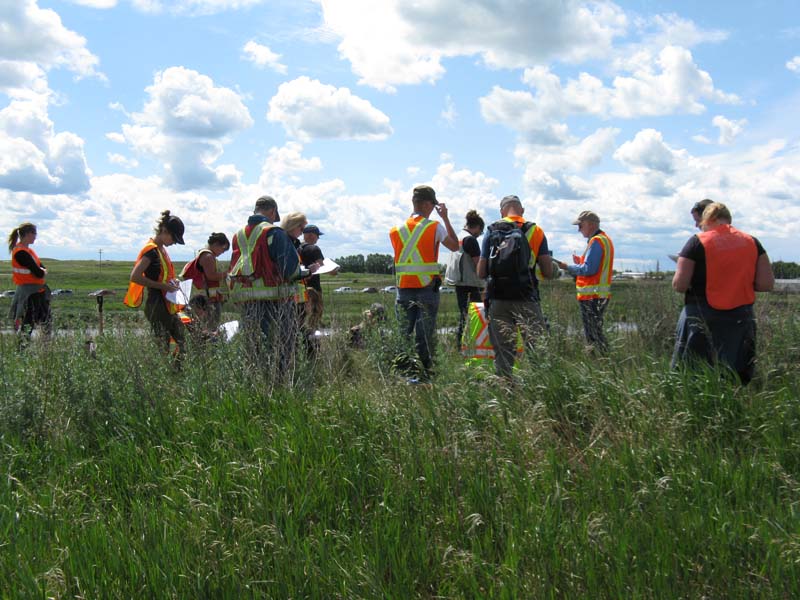 Course Overview
The Alberta Wetland Rapid Evaluation Tool -Actual (ABWRET-A) is a standardized method for assessing the important natural functions performed by all types of Alberta wetlands using both field and spatial data.  Use of the ABWRET method is required by the Government of Alberta's Wetland Policy, when Water Act approval is sought and wetlands will be permanently impacted.
A strong understanding of this tool is required at three stages and sign-off points in the Water Act approval process for wetlands:
Pre-disturbance Stage as part of the Wetland Assessment & Impact Report (WAIR),
Restoration Design Stage as part of the Wetland Restoration Plan, and
Final Verification Stage as part of the Verification Report. 
SALMTEC has designed this course to provide participants with a strong understanding of the Alberta Wetland Rapid Evaluation Tool Actual (ABWRET-A). This course targets an intermediate audience with some experience working in natural sciences.
The course is primarily instructed by Dr. Paul Adamus, the creator of the wetland evaluation tool, who lends his voice, experience and knowledge to this intensive online course.
Course Format
This course consists of 8 online modules, comprised of:
25 online instruction elements

One to three quizzes per module

Four activities

One interactive online class

an interactive class will be scheduled every three months, with the next class occurring in June 2020

instruction elements, quizzes and activities must be complete before attending an interactive online class
Estimated total time to complete 16-18 hours
Registration Fee ------------------------$400 (plus tax) 
Students have until April 14, 2021 to complete this course.
Course Learning Objectives
Learners will understand the context for using ABWRET-A (green and white areas)
Learners will understand the methods used to create ABWRET-A
Learners will understand the basic theory behind the wetland functions
Learners will receive an in-depth understanding of ABWRET-A indicators and wetland functional models
Learners will understand the process of submitting ABWRET-A
Learners will understand how to interpret the ABWRET-A results